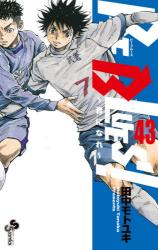 Be Blues!
Be Blues! - Ao ni Nare
Login to bookmark this series
2011
ON-GOING
TANAKA Motoyuki
TANAKA Motoyuki
Right(→) to Left(←)
Manga Description
In case you're brought into the world in Japan and you play football, you'll in the end need to wear the public group uniform! It's the equivalent for everybody! Ichijou Ryuu is a kid whose fantasy is to turn into a Japan public cooperative person. With his twin cherished companions, Yuuto and Yuki, their first objective is to win the Japan Under-12 Football Championship! The energy of a one-on-one! The pressure before objective! The joy from pulling off the ideal connection up play! The embodiment of what makes football pleasant is here. Won the Shogakukan Manga Award for Best Shonen Manga in 2014.