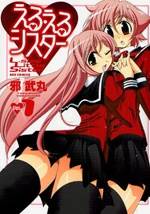 Eru-Eru Sister, L-Size Little Sister,?????????
L-size Little Sister
Login to bookmark this series
2009
ON-GOING
Right(→) to Left(←)
Manga Description
Konakai Futaba cherishes her more established sister more than whatever else on the planet. Kind, excellent and wise, Ichina was everything that Futaba longed that she could be... she even supported Futaba when she was feeling down. All things considered, Futaba went to the same highschool as Ichina, planning to be brought together following two entire years of being separated... ...in any case, tragically, Ichina has totally transformed from the sweet, delicate sister that Futaba recalls. Into a gigantic sick person.